One certainty in a world full of uncertainty is the need for businesses to transform if they are to remain competitive.
One of the key characteristics of a successful global organization is not only its ability but its agility when it comes to adapting to or effecting change. Simply reacting to a changing environment is not enough. It requires strong leadership, innovative solutions, effective decision making and a talented, adaptable workforce to ensure successful outcomes.
Taking a proactive approach to change is what defines some of the World's most successful brands. Many have succeeded and continue to thrive, but this has not always been the case. In the 1980's Blockbuster became the World's leading video & entertainments rental business and at its peak in the early 2000's had 9000 stores globally and annual revenues of $5.9 billion.
Failure to Innovate
Blockbuster's problems had already begun however with the arrival of Netflix, founded in 1997 and one of the first stages in Blockbuster's ultimate demise was not taking the opportunity to acquire Netflix – a company that had already formed a strong online business model and unlike Blockbuster did not charge a late return fee, which had become a major irritant to many of Blockbuster's customers.
Blockbuster's late fees contributed to 16% of its annual revenues, hence why in the face of competition they were reluctantly, yet belatedly forced to scrap these in 2004, at an estimated cost of $200 million. This is when they finally launched their online service, which despite another $200 million investment was now years behind the established Netflix online service model.
This contributed to the former giant of video and entertainment losing 75% of its market value between 2003 and 2005, before finally filing for bankruptcy in 2011. Meanwhile, Netflix continues to thrive and adapt to the changing market and customer expectations with its leading streaming service.
Blockbuster is just one example of many household brands that have disappeared over the decades and in most cases have fallen victim of changing market conditions, new technologies or general changes in consumer habits.
Revolutions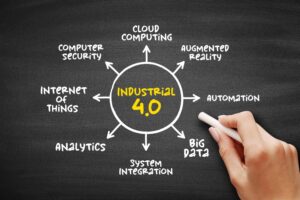 The human race has a fascinating capacity to advance, as demonstrated with 3 major industrial revolutions in less than 300 years:
Circa 1784 – 1st Industrial Revolution – Steam, water, mechanical production
Circa 1870 – 2nd Industrial Revolution – Electricity, mass production
Circa 1969 – 3rd Industrial Revolution – Electronics, IT, automated production
Each of those periods required organisations and individuals to adapt their processes to multiple changes. Not all would have had the capability to make the transition and are now almost forgotten. Kodak, the company that dominated the photography market for many decades missed the digital revolution because they were so focused on film photography!
We are now on the verge of a fourth industrial revolution which according to the World Economic Forum will disrupt every industry in every country. The question therefore is not, 'should we adapt?' but 'how do we effectively adapt?'
Anticipation is key
At the beginning of 2022, this was a question that confronted IMET, faced with an unprecedented increase in demand for titanium and superalloys as the aerospace sector bounced back from the effects of the covid-19 pandemic. The situation was further exacerbated by the Russian invasion of Ukraine, reducing supply of critical raw materials vital to aerospace manufacturing.
Since IMET opened back in 2012, we have continually tuned into shifting market conditions allowing us to foresee changes. Focusing on the here and now is no longer enough as we must anticipate rather than react to change.  This approach has enabled us to refine our business model according to global market forces.
Investment in pioneering processing technology has helped future-proof our business. and our new online training platform raises staff training and onboarding to the next level. This enables us to keep in lockstep with our industry partners and clients.
It also helps to keep in mind, that the only constant, is change.