STEM is an acronym that stands for science, technology, engineering, and mathematics.
These subjects are recognised as the foundations of our technological society, but STEM is not only about being an expert in those fields but about harnessing the transferable skills behind them, such as the ability to hypothesize, experiment, analyse and evaluate. STEM also encourages teamwork and combining skillsets to achieve greater outcomes.
Without STEM, life as we know it would be very different. Everything from transportation and medicine to food production and construction are now dependent on STEM. It ensures the industrial and economic progression that society needs to meet the demands of population growth and global warming.
Unfortunately, we are currently seeing a STEM skills shortage, not just in the UK but in many countries around the World. This is attributed to several causes such as career advice in schools, funding restrictions and Government departments lacking people with STEM knowledge or experience.
The STEM shortage is not restricted to the UK, and is being felt in many of the World's leading economies:
UK STEM shortfall – 173,000
89% of companies had difficulty hiring
5 billion in recruitment
Furthermore, new STEM related roles are expected to double within the next 10 years, underlining the importance of human resources keeping up with technological advancement.
Our national security also depends on STEM skills in fields such as cyber security and border control. In 2016, China implemented a national innovation development strategy to promote STEM and, in some cities, have added compulsory programming to the curriculum in a bid to become a World leading technological superpower by 2050.
Facing the STEM shortage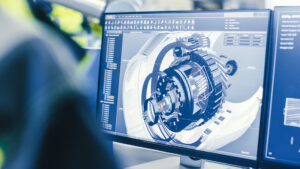 Despite the current challenges surrounding STEM, there are silver linings that bring some encouragement.
Last month the UK Space agency announced a £6.6 million funding programme for a range of STEM education projects as well as international science partnerships. The aim of the scheme is to engage young people in STEM subjects and to fill the STEM skills gap required now and, in the future, – not just in the space industry but in other STEM careers.
By offering a way to learn science, technology, engineering, and maths in such an exciting way encourages young people to engage more in these subjects. The hope is also to attract a more diverse range of people into the STEM workforce.
F1 In Schools STEM Challenge
It was therefore good to learn about the F1 in Schools STEM Challenge – an international STEM competition for school children, in which groups of 3–6 students must design and manufacture a miniature car using CAD/CAM design tools.
The F1 challenge introduces young people to project management, sponsorship, marketing, CAD Design, testing elements and effective teamwork. The project also requires participants to deliver a verbal presentation – which can be character building!
F1 in Schools has led to careers not only in Motorsports but in other STEM roles for boys and girls. 40% of the entries in the most recent F1 in Schools World Finals were girls which is of course another benefit to help address diversity in STEM. Again, this is an opportunity to learn about STEM and its associated skills in a fun, exciting and engaging way.
IMET Alloys was therefore proud to sponsor the Stewarts Melville College 'Kronos' Team who were partaking in the UK F1 in Schools National finals in Leeds last month. This was a superb opportunity for the young team to showcase their design, manufacturing, and branding skills, as well as racing on a 20-metre track!
As a society, it is within our interests to do what we can to support and promote STEM, and the F1 Challenge shows an appetite for STEM subjects amongst young people. It just requires a touch more encouragement and focus on how to make STEM more appealing, and the F1 Challenge appears to have found the right formula to achieve this.
Governments and businesses should be heartened by how F1 in Schools has succeeded in encouraging young people towards STEM careers.
Could this, and similar initiatives be the key to solving the STEM shortfall?