As we begin the new year, I thought this would be a good opportunity to provide a reminder of the basics of the circular economy, which will become even more significant for all of us in our personal lives and in our businesses throughout 2023 and beyond. We will also look at what one of the World's key manufacturing sectors is doing in their efforts to create a more circular economy.
Its' often easier to illustrate the fundamental differences of the two approaches by showing a visual representation such as the traditional linear model as opposed to the circular economy below, yet there are complexities and challenges within each model.
Linear Economy

Circular Economy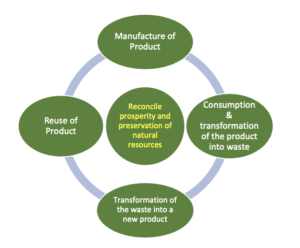 Infographics like these are great, but I much prefer Dame Ellen MacArthur's description of how she became interested in circular economies, resulting from her nautical endeavours as a solo long-distance yachtswoman, who broke the World record for the fastest circumnavigation of the globe:
'When you set off on one of those journeys, you get everything you need for your survival on the boat – the minimum because you must be light – and then when you leave for that 3-month journey, you manage what you have, down to the last drop of diesel to your last bit of food. You just know that what you have is all you have. And that is what it feels like, when you are two and a half thousand miles away from the nearest town'…so actually you are incredibly remote, and it taught me the definition of the word 'finite'.
Such realisations drew Ellen MacArthur to explore comparisons between using things up in the confines of the boat and using things within the global economy. She continued to question this and through the work of her charity, 'The Ellen MacArthur Foundation', has promoted the circular economy with business, policy makers and academics.
The implementation of circular economies can be accelerated by the willingness of companies, governments, and business sectors to work together. With IMET's close links within the aerospace industry we have a good understanding of its sustainability goals and are proud to play a part in their drive to net zero with our own closed loop expertise.
Aerospace has led the way with some amazing innovations such as sustainable aviation fuels (SAF) (made from recycled food stuffs), advances in engine developments and of course sustainable materials.
But what about other key manufacturing sectors? What are they doing to move away from the traditional linear model to a more circular approach? And is there more scope for different sectors to share ideas?
As with the aerospace sector, the automotive industry must also reduce its dependency on primary critical raw materials through circular use of resources, sustainable products, and innovation.
Annually, more than 11 million vehicles that are made up of approximately 85% of recyclable materials reach the end of their life. Yet new vehicles are made up of only 20-30% of recycled materials, not necessarily sourced from the automotive industry, but multiple industries.
So there clearly is an opportunity for the automotive industry to do more and the signs are positive.
The French car-manufacturer Renault recently announced a new initiative entirely dedicated to the circular economy: 'The future is NEUTRAL' – to explore closed loop recycling solutions at each stage of a vehicle's life – to address raw material shortages as well as increased material costs – issues that were still prevalent even prior to the war in Ukraine and other more geopolitical factors.
By becoming a pioneer of the circular economy in the automotive sector, Renault hopes to encourage the whole industry to move towards resource neutrality by 2030.  In late 2020, the Group increased their ambitions by establishing the 'RE:Factory', Europe's first dedicated circular economy factory for vehicles and mobility.
The whole debate surrounding the transition from linear to circular economies is wide, varied, and multi-faceted and we will certainly discuss it again in the coming months.
But to conclude this article I would like to end with a quote from Jyrki Katainen, President of the Finnish Innovation Fund:
'Sticking with the current wasteful linear economy is simply not an option – mitigating climate change and halting biodiversity loss cannot wait'.
So, will 2023 herald a new era of acceleration towards a more comprehensive circular economy?
Watch this space!
Article by Ruaraidh Williamson CEO IMET Alloys